FULL CABLING AND INSTALLATION SERVICES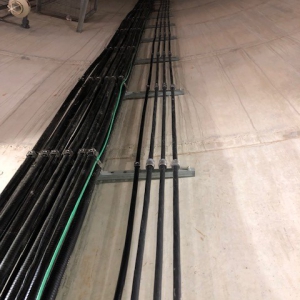 Your business relies on proper installation of cabling to operate efficiently and at optimal speeds. Absolute's staff is here to assist you in the design and implementation of a cabling system.
Phones and computers in an office use voice and data cable to communicate with a server or switch.  The same way you maintain a computer, you need to maintain your network and phone cabling.  Prevent your company from having a cluttered nest of cabling running your network.
Our technicians are highly trained, experienced, fully licensed and insured.  We staff ICC Certified Elite Installers™ and Absolute Communications (CEI) offers a 15 Year Performance Limited Warranty on structured cabling installations supported by ICC.  Elite ID#: 29040451
Data Cabling is a key component of any networked system, therefore it is advisable when planning new IT infrastructure to commit 15-20% of the total cost in this area. Studies have shown that failures in badly designed and implemented cabling are very common and can get very expensive.
Our certified technicians ensure that cable is installed in a clean and neat path and that each connection is tested.  Whether you are building a new network or if you want to move, and or change your existing infrastructure we can help.
We also specialize in cabling for specific applications such as Surveillance, Paging, A/V, and Projection.
Need Financing

?


Ask Us How

!